How to Keep Your Birds Warm
Keeping winter backyard birds warm is as easy as offering rich, high-energy foods and open water sources.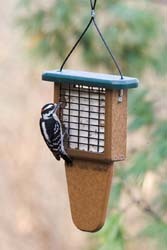 Offering Fats with Fruits
Suet is a great winter food. A pure fat substance, suet provides high energy when insects are more difficult to find. We have many suet choices with additives such as fruits, nuts and insects to make them even tastier to the birds.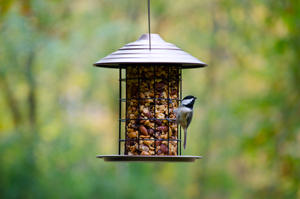 Energy-packed Cylinders
Bird food cylinders are a win-win for you and your birds. Cylinders, like the Nutty for Nuts, are long-lasting allowing you fewer trips to fill the feeder. The birds stay longer eating at the feeder instead of grabbing a morsel and quickly flying away to eat it elsewhere. Nutty for Nuts is packed with high-calorie peanut and tree nut energy to help the birds stay warmer. There are no shells, providing a quick energy snack for birds and no mess for you.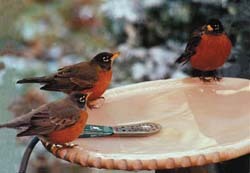 Open Water = Warm Birds
Water sources in winter are a wonderful way to attract a variety of birds, such as the American Robin, that don't normally visit feeders. They provide a reliable source of water for bathing and drinking. Bathing is especially important in cold weather to keep feathers in top condition. Available drinking water allows birds to maintain a healthy metabolism to stay warm. Use a heated bird bath or add a heater to your existing plastic, metal or stone bird bath. This will help make some water, available even on the coldest day.